Natural Neem Healing
Highest anti-oxidant levels of any natural product in the world.
Traditional village medicine commonly used throughout Asia.
Proven effective by millions for thousands of years.
Neem loves your skin
If you are interested in relieving the pain of Eczema, Psoriasis, Acne, Diabetes, Gingivitis and many more common problems or just looking for a more natural product to use for family and pets … then this is going to be the most exciting message you ever read.
Here's why: There is a range of amazing products called "Neem Rich". All of these botanical products are made with many important ingredients from every part of the tree, including seed oil and leaf extract from the Neem Tree.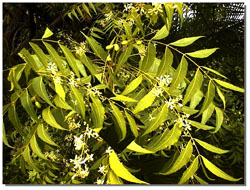 The Neem tree is a native tree to the dry areas of India. To the local's it's known as the "Village Pharmacy".
The extensive range in botanical health products available on this site, ensure we have something to suit almost everyone and almost everything.  All at reasonable prices.
We have been using 'Neem' products for years, and can share with you our stories of how it's helped our friends and family. For more click here.
Imagine the power of being able to help relieve your son or daughters acne, wouldn't that be great? It's a common condition these days. Dermatologist's work around the clock trying to come up with the magic formula, but after years in the lab still nothing has worked. We urge you to just give Neem products a go, with a money back guarantee what do you have to lose?
Or what about the daily use of our cream, oils and soap that can ease the symptoms of eczema. With our 'all skin type' cream you can relieve the discomfort for everyone in the family, including babies.
If you suffer from Arthritis, sports injuries, muscular aches & pains or Joint inflammation. Imagine being able to use a botanical cream twice a day to help reduce the swelling and to relieve the pain and stiffness. This traditional herbal cream has been mixed with an array of natural herbs such as; Olive & Castor Oil, Black Pepper, Nutmeg, Tea Tree, Checkerberry, Rosemary, Tumeric, Myrrh as well as Fresh Aloe Vera, purified water, natural emulsifiers, Macadamia & Almond Kernel oils, Jojoba and natural preservatives. and of course Neem.
For payments via eftpos or credit cards please call
02 6672 5309 or 0418 984 431