Neem Health Agricultural Products
In agriculture, the Neem Tree has for many years provided man with a natural insecticide and pesticide.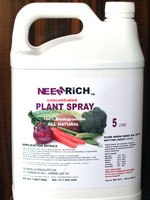 By using Neem as both an insecticide and pesticide, we are making a dramatic difference to our planet. Making it a more eco friendly place by reducing pollution and promoting sustainable and green agricultural practises.
When you use Neem as a fertilizer it not only fertilizers the crops but improves the quality of degraded soils which are an ever increasing threat to out planet.
Neem Seed Oil
Neem Plant Spray
Neem Trees