New Approach to an Ancient Herb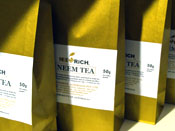 To help you lead an active healthy lifestyle, we suggest you look at Neem and its future in this complicated world. It is a natural health product from very old Sanskrit & Ayurveda times and has proven itself to be one of the wonders of the world, it's no small wonder they call it "The Wonder Tree" in India.
As a young, vibrant company we have enthusiastically embraced this versatile tree and produced many wonderful natural eco friendly health & personal care products. They include, Neem Rich Creams & Lotions, Shampoos, Conditioners, a wide selection of Soaps, Eye Gel, Lip Balm, Neem oils and extracts for treatment of ailments such as Psoriasis, Eczema, Ulcers, Diabetes and Acne.
Then, there is Neem Tea from Australian Neem Trees as well as Neem Leaf Capsules. Neem toothpaste (from India) has a wide following and is renowned for its action against bacteria and gingivitis (bleeding gums)
Neem Rich Soaps
Herbal / Medicinal
Neem Tea & Capsules
Neem Toothpaste
Sun & Burn Relief