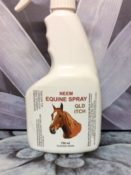 Horses are often hassled by an itchy, annoying skin condition known as "Queensland Itch" or "Sweet Itch".
Itching is the main sign of the condition. An affected horse will rub its rump, the butt of its tail and its mane on fixed objects in its paddock or stable.
This can result in hair loss and skin changes.
Apply or spray our Equine Spray onto affected areas daily or as necessary.
This is a natural product.   No chemicals and non toxic.
See for yourself the great relief that it gives to your horse or pet.
People who bought this item also bought