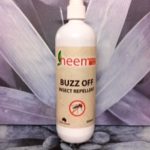 NHP505 Neem Buzz Off Insect Repellent 50ml (Roll On)

TEMPORARILY OUT OF STOCK
Neem Great Outdoors Insect Repellent 50ml (Roll On)
Is the great outdoors no fun anymore?
Are you being driven mad by those nasty biting insects?
Want to go camping or bushwalking but worried about getting eaten alive?
Are your children suffering when they go outside too?
Then suffer no longer – try our Neem Outdoors Roll On.
Can also be used after you have been bitten to ease the bites and itchiness.
Handy size for your bag, purse or travel pack. Hand blended with natural Tasmanian Spearmint, Neem, Citronella, Lavender & fresh Aloe Vera Juice.
NHP506 Neem Buzz Off Insect Repellent 500ml
TEMPORARILY OUT OF STOCK
Neem Buzz Off Insect Repellent 500ml
Are those nasty biting insects driving you and your family crazy? If so, then try our wonderful BUZZ OFF Lotion to help repel those unwanted 'guests'. It is a lovely creamy lotion and comes in a pump pack for easy use. Safe for all the family to use – even young babies. It is gentle on skin and suits all skin types. Contains our Australian Spearmint, Neem, Citronella, Lavender and Aloe Vera.
Has a double whammy – not only does it help repel but also if you forget to put in on and you get bitten, then apply this lotion and you will see for yourself the relief that it brings. Soothes and calms those bites.
So, Take back the Outback with this great natural Neem product and enjoy your outings.
This product was originally know as Outdoor Freedom.