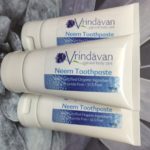 NHP513 Neem Toothpaste 125g

Neem Toothpaste
For thousands of years Indians used a twig from the Neem Tree to prevent decay and gingivitis (gum infection) and today we have incorporated those benefits into the Neem Toothpaste. It is manufactured in India and contains Neem. Other components of the toothpaste include Menthol, Peppermint as a mouth freshener, antibacterial Spearmint, antiseptic Clove Oil, methyl salysalate as astringent (helps to tighten gums making them strong enough to resist inflammation) and as well as Irish Moss (to make it creamy) Contains 1000 ppm max. of fluoride when packed. Sensitivity to the mouth: Almost normal pH. You'll love its mild, gentle flavour and is suitable for all the family.
VR003 Neem Toothpaste 100ml SLS & Flouride Free, Certified Organic
This toothpaste cleanses and whitens teeth and freshens your breath, but does not foam like most toothpastes as it does not contain sodium laurel sulphate or any other foaming agent.
Ingredients: sodium bicardonate, distilled water, xanthan gum, xylitol, certified organic peppermint essential oil, neem tincture (derived from organically grown neem trees)
Not tested on animals.
Fluoride Free and SLS Free. Certified Organic.
Sale