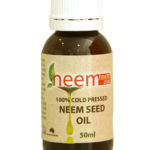 Neem Seed Oil

Our Neem Seed Oil is 100% pure with international organic certifications.
The oil is cold pressed and refined for topical use. It contains no additives.
Neem Seed Oil contains Vitamin E, proteins, essential amino acids & natural glycerine. All these are excellent for hair & skin. Neem is an excellent moisturise additive or excellent by itself.
Neem contains compounds with historical and scientific validity for use in medicinals and has been used in Traditional Medicines for many uses including burns, cuts, bruises, nasty insect bites, earache, eczema, psoriasis, scabies, ringworm, fungus & fungal problems, head lice as well as many other problems. See also our 'Traditional Uses' in our Links of Interest section (For agriculture and horticulture uses and prices see our 'Agriculture' section)